DIASPORA & GREEKS LIVING ABROAD
We like helping you …
You live abroad? We can represent you before all Greek Authorities.
We will monitor your issues in Greece and act accordingly as if you were present.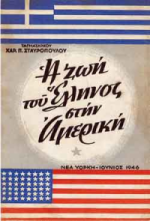 ((The photo is from the
Macedonian News Agency
)
A significant number of the people who trust our firm are Greek expatriates living in various foreign countries like the US, Australia, South Africa, France, and also citizens of foreign countries (companies and individuals) who live and work in Greece.
They know the way in which we work and choose us for the management and settlement of all their issues in Greece, whether this involves the handling of real estate affair or the settlement of problem of personnal nature.
Through constant contact with our clients during the processing of their cases, we have developed ties of confidence between the firm's members and our fellow Greeks who live abroad. Greek Expatriates and foreign residents in Greece trust us to offer them personalized solutions in various areas of their everyday life.
Our main services to Greek expatriates and foreign residents in Greece include:
Military issues.
Tax planning and representation in the Tax authorities, preparation of tax returns, payment of taxes
Inheritance trust, assistance in the drafting of wills, acceptance/refusal of succession goods.
Drafting of contracts for the purchase and sell of property, issuance of building permits.
Real estate management: transfer (with parental benefit, donation), rental issues, property assessment etc.
Property claims from trespassing offenses, registration of estates in the National Land Registry.
Divorce procedures, civil partnerships, transnational adoptions.
Pensions in Greece or in another states.
Recognition and execution of foreign judgments in Greece
Investment-related issues in touristic destinations in the Greek islands
Preparation of notarial documents of various types, Apostille, legal certification and authentication of documents.
Representation in front of the Greek public authorities such as the National Land Registry, the Tax Office and in front of the utilities organizations (Electricity company, Water company and telecommunications).
Contact us. We will do the research for you, identify all possible solutions and choose the best one for you personally.