posted by admin
posted in Quotes
LE POINT  –  23/12/2011
The fabulous treasure of the Greek Church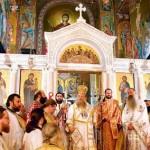 … But the debate results only little controversy in the country, apart from a few small circles. Over 80% of Greeks declare being Orthodox and many of them prefer to turn their back to the situation as long as the privileged status of the Church is profitable for them.
"In the rich suburbs and in the very popular islands, where the price per square meter is very high, some take advantage of the vagueness of the law," said Christos Christopoulos, from the business-law firm Christopoulos Advocates. "The Church of Greece has a planning department recognized by law, issuing building permits for parishes and temples. On the same ground, next to these places of worship, it is possible to build small auxiliary buildings. But some people have used this type of license in order to build villas on their land, where construction was prohibited by city-planning regulations" he says.
To fight against these abuses, the State and the Church of Greece are finally in the process of establishing a cadaster. But again, you must be patient. The larger cadaster in Greece, the one in Athens, will not be completed until at least the year 2015.
…
Source: Le Point – http://www.lepoint.fr/monde/le-fabuleux-tresor-de-l-eglise-grecque-23-12-2011-1411926_24.php
Le fabuleux trésor de l'Église grecque
… Mais le débat ne fait guère polémique dans le pays, en dehors de quelques cercles restreints. Plus de 80 % des Grecs se déclarent aujourd'hui orthodoxes et nombre d'entre eux préfèrent faire le dos rond tant que le statut privilégié de l'Église peut leur être profitable.
"Dans les banlieues huppées et les îles très prisées, où le prix du mètre carré est très élevé, certains profitent du flou de la législation", confie Christos Christopoulos, avocat d'affaires au cabinet Christopoulos Advocates. "L'Église de Grèce dispose d'un service d'urbanisme reconnu par la loi qui délivre des permis de construire pour les paroisses, temples et métropoles. Sur le même terrain, à côté de ces lieux de culte, il est possible de construire de petites habitations auxiliaires. Mais beaucoup de gens, avec ce genre de permis, possèdent aujourd'hui des villas sur des terrains où la construction était interdite par les règlements d'urbanisme", explique-t-il.
Pour lutter contre ces dérives, l'État comme l'Église de Grèce sont, enfin, en train de se doter d'un cadastre. Mais, là encore, il faudra être patient. Le seul cadastre d'Athènes ne sera terminé qu'en 2015.
…