posted by admin
posted in Quotes
LE FIGARO-Economie – 12/10/2012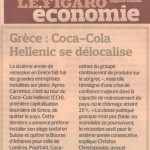 Coca-Cola Hellenic se délocalise
La sixième année de récession en Grèce fait fuir les grandes entreprises installées sur place. Apres Carrefour, c'est au tour de Coca-Cola Hellenic (CCH), première capitalisation boursière de Grèce, de quitter le pays. Cette dernière a annonce préférer installer son siège social en Suisse et quitter la Bourse d'Athènes pour celle de Londres. Pourtant, Coca- Cola Hellenic est le deuxième embouteilleur de Coca-Cola au monde.
Les conséquences réelles de cette délocalisation resteront limitées- les usines du groupe continueront de produire sur le sol grec -, mais elle témoigne d'une crise de confiance majeure dans la capacité de redressement du pays, ou le chômage atteint 25%.
«La classe politique grecque n'est pas fiable, les scandales se poursuivent, la récession sévit pour la sixième année consécutive, explique Christos Christopoulos, avocat d'affaires a Athènes. Même en temps de guerre, ce n'est pas aussi long! C'est injuste pour le peuple grec, qui est travailleur et très qualifie!»
Alexia Kefalas (Athènes)
The Coca-Cola leaves Greece
The sixth year of recession in Greece scares large companies incorporated in the country. After Carrefour, it is the turn of Coca-Cola Hellenic (CCH), the leader of capitalization at the Athens Stock Exchange to leave the country. The company has announced its decision to move its headquarters in Switzerland and leave the Athens Stock Exchange for London. However, Coca-Cola Hellenic is the second largest bottler of Coca-Cola in the world.
The actual consequences of the relocation will be limited, the group's factories continue to produce on Greek soil – but it shows a major crisis of confidence in the ability of the country's recovery, where unemployment reached 25%.
"The Greek political class is not reliable, scandals continue, the recession rages for the sixth consecutive year, says Christos Christopoulos, business lawyer in Athens. Even in times of war, it was for not so long! This is unfair to the Greek people, which is hardworking and highly qualified! "
Alexia Kefalas (Athens)