posted by admin
posted in Quotes
LE POINT –  14/10/2012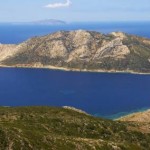 Greek islands to sell
The news has been a bombshell. According to the Greek press this weekend, the emissaries of the European Union and International Monetary Fund have suggested the Greek government to "move the Islanders with less than 150 inhabitants to more accessible places." A proposal publicly repeated by Kostas Mousouroulis, the Greek Minister of Maritime Affairs. The country has indeed a myriad of islands, many of which are close to the Turkish coast. Twenty-two of them are inhabited by fewer than 150 persons. Their operation, according to the minister, would "cost too expensive for the state."
Deportation
Even contradicted this assumption is debatable. Christos Christopoulos, business lawyer, remains skeptical about the realization of the project, but asks: "What if in France we moved seven villagers of Châteauvieux-the-Fosse in the Doubs or those of 'Aulan in Drôme? Deportation of these people from their dwelling place, even under the pretext of non-profitability, wake past traumas to the Greeks. Moreover, it is legally impermissible and, finally, it would create serious risks to national security, "he says.
Christos Christopoulos refers to the forced deportation of the Greek population of Asia Minor, where it had been since the dawn of time. After the defeat of the Greek troops from  Atatürk in 1922, dropped also by the Allies, the Treaty of Lausanne, a year later, forced a "population exchange". Nearly two million Greeks then had to leave what had been their homeland to settle in Greece, which had fewer than five million people at the time.
…
A few weeks ago, the Greek press revealed the catalog of 47 islands and islets chosen by the coalition government in order to be sold to private investors. Leases 30, 40 or 50 years for amounts ranging from 3 to 45 million are suggested. This idea, set in 2010 by a German MP, had then raised a general indignation. This time, the Greeks destroyed by the rigor seem too stunned to react while the unemployment rate is more than 25% of the active population and the recession continues to plague the sixth consecutive year. Next week, Antonis Samaras, the Prime Minister should announce a new austerity measures to save 13.5 billion euros and receive in return for the payment of 31.5 billion euros with its creditors. A blank check, essential to avoid bankruptcy.
 Source: Le Point – http://www.lepoint.fr/monde/iles-grecques-a-vendre-14-10-2012-1516752_24.php
ÎlLES GRECQUES A VENDRE
La nouvelle a fait l'effet d'une bombe. Selon la presse grecque de ce week-end, les émissaires de l'Union européenne et du Fonds monétaire international auraient proposé au gouvernement grec de "déplacer les habitants des îles comptant moins de 150 habitants vers des lieux plus accessibles". Une proposition reprise publiquement par Kostas Mousouroulis, le ministre grec des Affaires maritimes. Le pays possède en effet une myriade d'îles, dont beaucoup sont proches des côtes turques. Vingt-deux d'entre elles sont habitées par moins de 150 habitants. Leur fonctionnement, selon le ministre, aurait un "coût trop élevé pour l'État".
Déportation
Même démentie, cette hypothèse fait débat. Christos Christopoulos, avocat d'affaires, reste sceptique sur la concrétisation du projet, mais s'interroge : "Que dirait-on en France si l'on déplaçait les sept habitants du village de Châteauvieux-les-Fossés dans le Doubs ou ceux d'Aulan dans la Drôme ? Cette déportation de gens de leur lieu d'habitation, même au prétexte de non-rentabilité, réveille les traumatismes du passé pour les Grecs. De plus, cela est juridiquement inadmissible et, enfin, cela engendrerait de sérieux risques pour la sécurité nationale", affirme-t-il.
Christos Christopoulos fait référence au déplacement de la population grecque d'Asie Mineure, où elle était installée depuis la nuit des temps. Après la défaite des troupes grecques, lâchées par les alliés face à Atatürk en 1922, le traité de Lausanne, un an plus tard, obligeait à un "échange de population". Près de deux millions de Grecs avaient alors dû quitter ce qui avait toujours été leur patrie pour s'installer en Grèce, qui comptait moins de cinq millions d'habitants à l'époque.
…
Il y a quelques semaines, la presse grecque dévoilait le catalogue de 47 îles et îlots choisis par le gouvernement de coalition dans le but d'être cédés à des investisseurs privés. Des baux de 30, 40 ou 50 ans pour des montants allant de 3 à 45 millions sont suggérés. Cette idée, énoncée en 2010 par un député allemand, avait alors soulevé une indignation générale. Cette fois, les Grecs, abattus par la rigueur, semblent trop tétanisés pour réagir alors que le taux de chômage touche plus de 25 % de la population active et que la récession continue de sévir pour la sixième année consécutive. La semaine prochaine, Antonis Samaras, le Premier ministre, doit annoncer une nouvelle cure d'austérité pour économiser 13,5 milliards d'euros et recevoir en contrepartie le versement de 31,5 milliards d'euros par ses créanciers publics. Un blanc-seing indispensable au pays pour éviter la faillite.